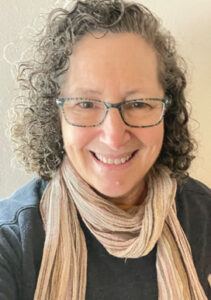 Kyle R. Isaacs, RDHEP, BHS, has dentistry in her blood with a dentist dad, dental hygienist mother, and dentist brother. After graduating from what used to be known as the Forsyth School for Dental Hygienists in Boston, she headed to California where dental hygienists could practice at the top of their license.
With a tightening job market, Isaacs moved to Oregon where she decided to become an expanded practice dental hygienist, which enabled her to see patients in a wide variety of settings.
Isaacs is a dental hygienist who wears many hats! She started her own mobile dental hygiene business, mostly seeing patients with dementia and intellectual and developmental disabilities as well as homebound patients. She works part-time for Benton County, Oregon, providing care to low-income patients. In addition, she helped write a proposal for a pilot project to bring preventive oral care to patients in facilities and is a published writer and speaker. An orofacial myofunctional therapist, Isaacs started her own business, MyO2 Breathe, to assist people on their journey to health.
In 2017, Isaacs received the Sunstar Award of Distinction and in 2018, she was honored with the American Dental Hygienists' Association Hu-Friedy Master Clinician's Award. She remains dedicated to mentoring and inspiring fellow dental hygienists.
Q. What do you love about clinical practice?
A. Creating and strengthening relationships and, ultimately, trust with patients are probably the most important aspects of clinical practice. Through gaining their trust, I help my patients feel more comfortable when they see me and ensure they will return for preventive dental hygiene services and any needed treatment with the dentist. This trust makes it easier to encourage and support good oral health practices.
It is so much fun to see the light bulb moments with my patients when I can empower them to take responsibility for their oral and overall health and when I can share new information to help them get and stay as healthy as possible.
I especially love providing care for patients with mental health issues, people with Alzheimer disease and other dementias, those who are homebound or residing in facilities, and patients with intellectual and developmental disabilities. I must say, I also love using my hands, so dental hygiene has been perfect for me these past 40 years.
Q. Out of all the hats you wear, which is your favorite?
A. As the owner of two small businesses (mobile dental hygiene and myofunctional therapy), I have experience with all facets of running a business. Direct patient care and connecting on an empathic level are my favorites. I have expanded my skill set to not feel burned out but also for that "just in case" I cannot do clinical dental hygiene anymore. Still, here I am 40 years later providing direct patient care. I feel extremely lucky as I hear of other clinicians early in their careers with physical issues affecting their ability to provide clinical care.
The past 9 years have been amazing! I started my two businesses and I also work for my home county providing care for low-income patients; administering assessments and applying sealants and fluoride varnish at one of our school-based health centers working alongside pediatricians; and educating community health workers on oral health. So, I love all of that and am so grateful that I live in a state where I can do all of this.
Q. What advice do you have for older dental hygienists who may be interested in trying something new?
A. You have life experience and a wealth of knowledge that can translate into myriad opportunities if you want them. Saying yes can open doors you never imagined. I learned this when I moved to a new state with no job in place, just the wisdom that I could make things happen. I volunteered in a variety of ways and made my opportunities. I continue to take courses and invest in myself.
You may think you are too old to start something new, but it will breathe new life into you and bring joy into what you do. Some of my proudest career moves came after the age of 50. I earned my bachelor's degree at 52, started my mobile dental hygiene business at 53, had my first article published when I was 54, gave my first presentation when I was 55, and was 61 when I set up my myofunctional therapy business. If you are passionate about something, take that chance, you do not want to regret those opportunities you did not take. Because older dental hygienists tend to have more experience in the dental field, we are a wealth of knowledge and have the ability to mentor younger and newer dental hygienists. I wish that when I was a new hygienist, I had someone to mentor me.
Q. In your opinion, what are the key strategies that can improve access to dental care in this country?
A. We need to remove the barriers for dental hygienists to provide care for patients outside of a dental office and without a dentist present. As an expanded practice dental hygienist, I and others in my state have had the opportunity to do this for many years. Not only have we been able to help patients who are marginalized, but we also have been able to get many of them to dental offices for needed treatment. There are now many states with various levels of autonomy and scope of practice, some with more strict rules making it more difficult to reach patients not able to come into a dental office. Easing up on these restrictions will increase better health outcomes.
Also important is to have dental benefits for adults who are unable to pay for dental services, thus reducing the number of people who access the emergency department and also overall costs. Providing education for providers in trauma-informed care as well as the nuances of working with individuals who have intellectual and developmental disabilities will help alleviate biases toward these populations. The more we as providers understand these populations and how to care for them, the better they will be able to access compassionate dental care.