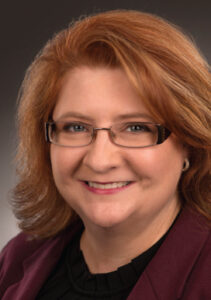 Kandis V. Garland, RDH, MS, has spent more than 22 years as a dental hygienist and educator. She began her career as a dental assistant and medical/dental insurance claims processor. Garland returned to school, earning a Bachelor of Science in Dental Hygiene from the University of Minnesota in 1998.
After working in clinical practice for 5 years, Garland decided to pursue her dream of becoming a dental hygiene educator. She began teaching at her alma mater while working on a master's degree, eventually taking a full-time tenure-track teaching position at Idaho State University (ISU) in Pocatello.
While tragedy struck during her first year at ISU with the unexpected loss of her first husband, Garland was supported by her ISU colleagues who surrounded her with caring, compassion, and mentorship.
In 2020, she left ISU to try something a new: radiology coordinator at Laramie County Community College in Cheyenne, Wyoming. While she enjoyed her students and the fast-paced, accelerated dental hygiene program, she missed the rigor of teaching in a university setting. In the summer of 2022, she began her current position as an associate professor at the Oregon Institute of Technology (OIT) in Klamath Falls. An expert in infection control, Garland is a prolific writer—don't miss her latest article on the hepatitis C virus on page 38!
Q. How has mentorship shaped your career?
A. Kathleen J. Newell, RDH, MA, PhD—program director of the Division of Dental Hygiene at the University of Minnesota for 21 years—was a guiding force in my early career. She earned a doctoral degree in the 1980s when it was very uncommon for dental hygiene faculty to do so. She was my role model of what an academician should be and offered me my first adjunct faculty position. I am forever grateful for the experience to teach at my alma mater in a dental school.
Mentorship helped me greatly in my first full-time teaching position at ISU where I spent 14 years. I realize how lucky I am to have had such noteworthy faculty colleagues/mentors including JoAnn Gurenlian, RDH, MS, PhD, AFAAOM; Kathleen O. Hodges, RDH, MS, and the late Denise Bowen, RDH, MS. These mentors helped guide me in my research in infection control, my teaching and clinic coordination, and my overall professional development.
I have also had excellent mentors in my professional infection control-related roles. Leann Keefer, MSM, RDH, and Kim Laudenslager, RDH,MPA,CDIPC, have always welcomed me, and I call upon them often for guidance
Mentorship has been a huge asset in my career. I am thankful for the guidance and friendships I have made over the years. My goal is to continue mentoring students and colleagues in my new role at OIT and in our profession.
Q. What is your favorite aspect of working in higher education?
A. First and foremost, working with students. Playing a part in someone's educational journey, creating lasting relationships, and developing the next generation of dental hygienists are my passions. Caring educators make a difference in students' lives.
I enjoy the variety of teaching, research, and service. No two days are ever alike. Working in higher education provides the opportunity to keep learning and growing. Lifelong learning is so valuable to me. I strive to stay current with trends in dental hygiene, which brings relevant concepts into my teaching. As an educator, you are always learning.
Students see us primarily as educators, but research, scholarship, and service are just as important in higher education. Contributing to the literature moves our profession forward. Getting lost in searching the literature, writing, and publishing is gratifying to me.
Another aspect of higher education I enjoy is service. Whether that's service to the department, university, or profession—giving back creates a well-rounded academician. Service to the institution helps advance the mission of educating students while creating opportunities for interprofessional collaboration. My current institution values that collaboration and collegiality. I've made so many meaningful professional relationships and friendships through service to my profession serving on state and national committees. Overall, I enjoy wearing many hats.
Q. What advice would you give dental hygienists who work in clinical practice but are interested in working in academia?
A. I would say absolutely go for it! Practicing dental hygienists have so much experience to offer. Students enjoy working with faculty who can offer real world advice that is relevant and current. Transitioning to academia is exciting and offers so much in the way of personal growth and learning. Taking on a new challenge can reignite your passion for dental hygiene in a different way. Finding a great mentor can help make the transition smoother.
Q. What changes have occurred in dental hygiene education over the past 20 years?
A. So many great changes have occurred including technology (classroom technology, clinical technology, electronic health records); expansion into interprofessional collaboration; advancement of our profession (direct access, restorative functions, access to care); medical/dental integration; and advocacy for our profession. Learning how to function in a pandemic was a real eye-opening experience for dental professionals and provided some valuable lessons. Overall, it is an exciting time to be a dental hygienist.