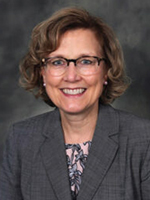 Janet Kinney, RDH, MS, is a clinical professor and director of dental hygiene at the University of Michigan (U-M) School of Dentistry in Ann Arbor. In September, she was installed as the inaugural Dr. Dorothy G. Hard Legacy Professor, the first professorship to honor a dental hygiene faculty member at U-M. 
A U-M graduate, Kinney spent 20 years in clinical practice both in the United States and in Europe before returning to U-M to earn two master's degrees. She has served as program director sine 2012. With a passion for both U-M and dental hygiene, Kinney led the charge to transform U-M's Bachelor of Science in Dental Hygiene Program from a 3-year program to a 2-year, year-round program, which is now fully accredited. 
Kinney's clinical research interest is in the area of salivary diagnostics. Specifically, her research has focused on investigating the role of oral fluid biomarkers, alone or in conjunction with pathogens, as predictors of periodontal disease progression. She is also a member of Dimensions of Dental Hygiene's Editorial Advisory Board.
Q. What do you love about working in academia and what do you find most challenging?
A. I love working with a team of like-minded educators. We all have a passion for teaching and are educators at heart. The students are the center of academia. Every year when our seniors graduate, my faculty and I feel this immense sense of pride. Being part of students' journeys from the time they enter the program to graduation and then transition to dental hygiene colleagues is very rewarding. 
I also enjoy the diverse range of my job responsibilities. At my institution, my position is divided into teaching, service, and research. I teach in our entry-level and graduate programs and serve on a variety of different department, school, university, and state committees and boards. These service activities give me a chance to network both inside and outside of the dental school. One of my favorite activities is participating in clinical research. It's exciting to be on the cutting edge of new discoveries and patient care treatment approaches. I continue to provide patient care each week and love the fact that I keep my clinical skills sharp. Basically, I am never bored in this position!
Of course there are challenges, and one of the most pressing challenges for me is coordinating student and faculty schedules. Just when I think we have everything in place, something will happen and all of the pieces of the puzzle become disjointed and we need to go back to the drawing board.
Q. What are the benefits and/or negatives of teaching in a dental hygiene program that is part of a dental school?
A. Having a dental hygiene program located within a dental school offers several opportunities and challenges, but by far the opportunities outweigh the challenges. One key benefit is the possible learning experiences it offers. Our students take several classes with the dental students and provide patient care in an integrated clinical setting. These intraprofessional experiences offer both groups of students a chance to learn about each other's scopes of practice and how each team member contributes to the success of a dental practice. Also housed in the dental school are several graduate specialty clinics, such as periodontics, prosthodontics, and orthodontics. Our students provide patient care at these clinics. Often students come away from these rotations having discovered that they really enjoy the specialty and want to seek employment in that setting after graduating and receiving their license. 
Compared to the dental classes, the dental hygiene classes are much smaller, about a quarter of the size. We like to say that we are small but mighty. However, being a small program in a huge school can be challenging at times. Thankfully, my dental colleagues know that when I'm in a meeting with them I will always speak up for dental hygiene and advocate for our students.