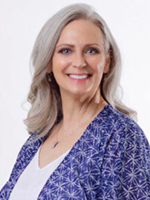 Angie Stone, RDH, BS, has more than 24 years of experience as a clinical dental hygienist. She began her career in dentistry as a dental technician in the United States Navy. After completing her military service, Stone began work as a dental assistant and went on to earn an Associate of Arts in Dental Hygiene from Madison College in Wisconsin. Passionate about lifelong learning, she also completed a Bachelor of Science in Psychology from Upper Iowa University in Fayette. 
She has honed her clinical skills in a variety of settings and currently focuses on caring for patients with Alzheimer disease (AD). Both her father and aunt have AD, and she herself has the gene responsible for AD. This motivated her to develop extensive knowledge and skills in brain health. 
A popular speaker and educator, Stone has given presentations in 47 states and seven countries. She is also a published author and key opinion leader.
Q. What advice would you give new dental hygienists who are just beginning their career in clinical practice?
A. When I graduated from hygiene school, I thought I would spend the next several decades working in a dental office in my small hometown. Little did I know that would only last for 2 months! Even though I had been the lead dental assistant at that office for 5 years, the workplace environment wasn't conducive to my staying once I became a dental hygienist. I left because I was consistently asked to work as an assistant after I had finished with my hygiene patients. My boss told me I was making the worst decision of my career by leaving that office. It ended up being the best decision I ever made, even though it was hard to do. Here a few pieces of advice to consider as you begin your career: 
Practice clinical hygiene for a few years to get very comfortable with your clinical skills.

 

Pay attention to the things about clinical practice that make you want to get out of the bed in the morning. Hone in on what types of patients you connect with the most. Find a practice where you can see these kinds of patients frequently!

 

Find a mentor, but not someone doing the same things you do. Find someone who has done many things in his or her career. These are the people who can help you grow.

 

If you get restless doing clinical hygiene, it's ok. Some dental hygienists will stay clinical their entire career, and some won't. Either way is good, it simply depends on what makes each person happy.

 

Remain open to new experiences. Never stop learning. Watch and listen to what the universe places in your path. There are many clues as to what you will ultimately do in your career.
Q. You began your career as a dental assistant in the military. How did this prepare you for a career as a dental hygienist?
A. Being trained as a dental assistant at the United States Navy's School of Dental Assisting and Technology was a great educational experience and was followed by stepping into my role of ensuring the dental readiness of our nation's sailors. As I rose through the ranks, I moved into a role of preventive technician, where I provided oral health programs for our sailor's children, educated active-duty members about the importance of dental health, and provided dental hygiene services. At that time, dental technicians were allowed to do dental hygiene after completing a brief training. Further advancement placed me in administration. I was responsible for a small team that tallied and submitted dental procedures completed for 13 dental clinics to naval headquarters in Washington DC. 
Serving our country in these roles prepared me for dental hygiene school and my subsequent career paths in many ways. While working through the dental hygiene program at Madison Area Technical College, I possessed many of the basics being taught in several courses. This allowed me to focus on the things I did not know. I had experience working with patients, which was also helpful. 
From a nonclinical aspect, having worked in various positions helped me to see that a career in the dental profession was not destined to being in an operatory for 40 years. There are so many other areas we can work in, so many other things we can do! 
I also learned the importance of working as a team to reach a goal. Making sure all the military members in our care were dentally ready for deployment took a lot of teamwork. Each person on the team was as important as the next. If one person wasn't pulling his or her weight, the goal would not be reached. This also transfers into everything we do in a dental office in the civilian world. Having that instilled in me early on has certainly helped me be successful in my career. The need to work hard, study, and perform to pick up rank also set the stage for me as my career progressed. I knew if I wanted to continue to move forward and do new things, it was up to me to put in the time and energy to get there. I use the things I learned in the military three decades ago every single day. I couldn't be more thankful for the experience.