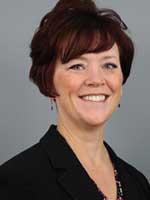 With more than 20 years of experience in the dental hygiene profession, Michele Lash, RDH, BA, is a clinical educator for Dentsply Sirona in York, Pennsylvania. She spent many years in clinical private practice and in education at her alma mater, Harrisburg Area Community College in Harrisburg, Pennsylvania, where she served as an adjunct clinical faculty member and first-year clinical coordinator. Lash currently sits on the college's Dental Hygiene Program Advisory Board. Over the past several years with Dentsply Sirona, she has developed scientific, evidence-based clinical education curricula and resources for oral heath professionals, key opinion leaders, and internal team trainings. Keeping abreast of scientific literature and clinical trends allows Lash to provide insights for new product development. She assists in organizing and facilitating digital content creation for the development of educational resources for oral health professionals across multiple formats. Her current focus is ultrasonic debridement, aerosol management, and best practices in infection control and prevention. She is a current member of the American Dental Hygienists' Association and Organization for Safety Asepsis and Prevention (OSAP). Lash has served on committees for OSAP and the OSAP–DentaQuest Task Force. Recently, she attained the OSAP-DALE Foundation Dental Infection Prevention and Control Certificate.
Q What advice would you give to dental hygienists who are interested in entering a career in industry?
A Frequently attending educational courses and keeping up with scientific research are key components to preparing for a career in industry or to further a career in this field. The dental world is ever changing and even more so now in light of the many challenges presented by the COVID-19 pandemic. Research will help guide us in adapting to this new dental world.
I would advise dental hygienists interested in a career in the corporate world to do your homework. There are many different paths to take in industry. Explore those that interest you and determine which opportunities offer the most flexibility. Networking with industry representatives prior to taking the leap will allow you to understand the roles, job functions, and prerequisites needed for your new career path. I met some wonderful people who took me under their wing and helped guide me into my current position. Many of these connections still serve as my sounding board and mentors.
Q What do you like and dislike about your career in corporate dental hygiene?
A There are many factors I enjoy in corporate dental hygiene! I love collaborating with my colleagues and accomplishing goals as a team. As a clinical dental hygienist, I never realized the extensive amount of work that goes into making a great product. I now understand the months of research and development required to create new devices, including the importance of listening to practicing clinicians in order to meet their current needs. To be part of a team that works from concept through research and development to product launch is one of the most satisfying parts of my job. The networking opportunities are also invaluable. I have been fortunate enough to travel throughout North America and Europe. Engaging with dental professionals from different cultures has been fascinating. These interactions have allowed me to understand how clinicians from other parts of the world operate and the unique emphasis each region places on dentistry. Through these endeavors, I have developed worldwide friendships and collegial contacts.
While I love working in industry, I do miss my patients! As dental hygienists, we all build personal and professional relationships. Now I incorporate my past patient experiences when creating resources to enhance clinician and patient interactions.