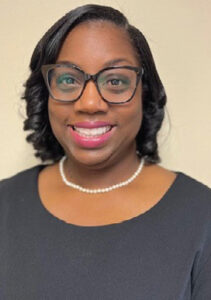 Denise M. Claiborne, PhD, RDH, is an assistant professor and graduate program director in the Gene W. Hirschfeld School of Dental Hygiene at Old Dominion University in Norfolk, Virginia, and has more than a decade of experience in both clinical practice and academia. Claiborne's research expertise is in maternal and child oral health with a focus on oral health outcomes, oral health disparities, and oral health literacy among low-income children and caregivers. Some of her research studies include participants of the Special Supplemental Nutrition Program for Women, Infants, and Children, which utilized national level data to examine disparities in dental caries, toothaches, and preventive dental visits. Her emerging research led to the utilization of interprofessional education and collaboration among dental hygiene and allied health professionals to increase knowledge and practices in prenatal and pediatric oral health. Claiborne has received intramural and extramural grant funding to support her robust research program throughout the years. She is published in several top-tier peer-reviewed dental, dental hygiene, nursing, and interprofessional journals and has presented her research both nationally and internationally.
Q. What inspired you to earn a doctoral degree, and what was the process like?
A. I was inspired to earn a PhD by dental hygienists who pursued a similar route before me. I began pursuing my doctoral studies in 2013 when just 3% of dental hygiene faculty had earned a doctorate, according to the American Dental Education Association (ADEA). Based on a 2020 report, also by the ADEA, this number has increased to 4.7%. I hoped to inspire others to consider pursuing doctoral studies.
While I was working on my master's degree, I also served as a graduate teaching assistant. Faculty members exposed me to various aspects of dental hygiene, including education and research. Toward the end of the master's program, I started my first adjunct appointment teaching in a dental hygiene program at a community college. From there, I accepted a full-time appointment in a baccalaureate degree program. I knew that if I remained in academia, I would want to pursue a doctoral degree. So, I identified a program that would complement the degrees I had earned. After much research and communication with mentors, I pursued a Doctor of Philosophy in Health Services Research.
And oh, it was a process! I matriculated through the PhD program full-time while working full-time in a dental hygiene program.  I did this for 3 years (no breaks) until I finished the program. The process had some challenges but was enjoyable. Overall, the PhD program enhanced my thought process and approach to research. In addition, it further developed my learning related to theoretical application and research and levering research to support policies that impact our profession and communities. Last, but most important, the program increased my curiosity, resilience, and perspective for how I intentionally show up and make a difference in the world.
Q. Which research study that you have conducted was the most memorable and why?
A. All the research studies I have conducted or been a part of have been memorable because I thoroughly enjoy collaboration and conducting research that will impact policies, communities, and professionals. However, the most memorable study is "Emergency Department Use for Non-Traumatic Dental Conditions among Children: NEDS 2014-2015." This research study was interprofessional and interinstitutional. We were collaborators from four different institutions with diverse expertise in healthcare, public health, dentistry, and administration. However, our passion for oral health and improving outcomes is what connected us. We worked remotely on the project for about 1 year until we met in-person at a national conference to present the research. While our lives are busy, we keep in touch and have worked on additional projects together.
Q. What advice would you give dental hygienists who are interested in working in research?
A. Have patience, be kind to yourself, and be resilient, intentional, open, and collaborative. Additionally, identify your research passion—research topics grounded in theory and evidence, fill a knowledge gap in the literature that will continue to build the theory and science of dental hygiene.
Q. What do you see in the future of interprofessional collaboration for dental hygiene?
A. Interprofessional collaboration is an interpersonal skill required to meet the needs of patients and communities. As dental hygienists, we must continue to educate the public about oral and systemic health. I believe this will help individuals and stakeholders to understand the depth and breadth of our knowledge and scope of practice and the need for us to be at the "table" and in conversations that involve patient-centered care and communities. In addition, if the goal is to incorporate social determinants of health, diversity, inclusion, and equity in how we approach healthcare, an interprofessional approach with dental hygiene as part of the team is imperative.