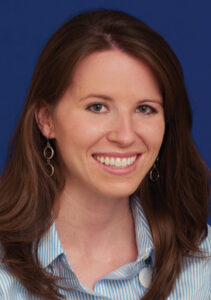 Ann M. Bruhn, BSDH, MS, is an associate professor and chair at the Gene W. Hirschfeld School of Dental Hygiene, Old Dominion University (ODU) in Norfolk, Virginia. An alumna of both the baccalaureate and master's degree programs, she has been teaching at ODU for more than 11 years.
In 2018, Bruhn became chair of ODU's School of Dental Hygiene. She influences dental hygiene through dissemination of her research at national and international levels for more than a decade. In addition to her teaching and administrative roles with ODU, Bruhn continues her research in safe and responsible patient care that bridges several domains including individuals with special needs, patients undergoing oral radiographic exposures, and post-mortem radiographic exposure for victim identification.
In 2017, Bruhn received the College of Health Sciences Outstanding Faculty Teaching Award, which recognizes excellent teaching clinically and didactically. In September 2022, she was recognized within the College of Health Sciences for her outstanding mentorship to staff, students, and faculty for going above and beyond her duties as chair to support and mentor anyone who seeks her guidance.
Bruhn recently presented at the International Symposium on Dental Hygiene and the International Dental Hygiene Educator's Forum in Dublin, Ireland. She serves the profession at the national level as secretary for the American Dental Education Association, Council of Allied Dental Program Directors.
She also received funding from the Delta Dental of Virginia Foundation to develop and implement the first diversity capacity building initiative in the state for high school students interested in the dental field. The inaugural Dental Health Summer Institute took place July 18 to 22, 2022 with 31 underrepresented minority high school students. Faculty members from the ODU School of Dental Hygiene and university admissions and financial aid representatives spoke on topics such as college admissions and financial preparedness, dental terminology and theory, and the value of a diverse healthcare workforce. Plans are underway to continue the program in 2023.
Q. What motivates you to continue striving for excellence in your career?
A. Working in education within a university setting motivates me daily. I am fortunate to be surrounded by bright, motivated students, colleagues, and professionals who push me to do and be better as well as advocate for the dental hygiene profession.
Every role I have had within my time in clinical practice and academia—including treating patients; teaching and conducting research; serving on committees within the school, college, and university; and working in professional and community service and administration—has motivated me to strive for excellence and provided opportunities to learn and grow.
I have found motivation and strength from associations such as the American Dental Education Association, where I currently serve as board secretary to the Council of Allied Dental Program Directors.This service role has provided me with invaluable mentorship and learning experiences.
Q. What makes mentorship so important in the field of dental hygiene?
A. I have been fortunate to benefit from numerous mentors in my career, which began as soon as I was accepted into the Dental Hygiene Program at Old Dominion University (ODU) more than 18 years ago.  My parents and professors during my time as a student mentored and motived me to apply for graduate school to obtain my master's in dental hygiene at ODU, which led to teaching assistantships, and later a full-time faculty position at the institution and school I love. Mentors saw aspects of myself that I could not see as clearly along with underlying potential, which exemplifies the power and courage mentors provide to their mentees. Moving into a full-time tenure track faculty position proved the importance of continued mentorship as I obtained tenure at ODU and serve as chair of the ODU School of Dental Hygiene.
Currently, dental hygienists are in demand in numerous roles: clinician, researcher, education, public health, and industry. Mentorship is critical to moving our profession forward within all roles of the dental hygienist; however, mentorship is even more meaningful continued throughout various stages of a career in dental hygiene. Mentorship should not be a daunting task, but a natural process of genuine care for the success of others: a simple check-in as a mentor can go a long way. It is important to me to motivate and mentor other aspiring and promising dental hygienists and dental hygiene educators in the way that I have been able to receive and experience.
Q. What do you hope to accomplish with the diversity capacity building initiative?
A. Last year (2022), the ODU School of Dental Hygiene was able to partner with Delta Dental of Virginia Foundation to provide the inaugural "Dental Health Summer Institute," to local high school students for the purpose of informing them of the dental hygiene profession, virtually meeting some of the School of Dental Hygiene faculty, and understanding the important process of applying to colleges and universities.  Currently, men and minorities are underrepresented in the field of dental hygiene.  Therefore, the planning team hopes the "Dental Health Summer Institute" will reach a diverse population and increase diversity among future applicants to ODU and the School of Dental Hygiene—many of whom are first-generation families with minimum to no experience with the process of applying to colleges/universities. We are thrilled to partner again and offer a hybrid program in 2023!
Q. Which issues facing the profession of dental hygiene do you believe are the most important to address?
A. I believe within clinical practice, access to dental hygiene care—relating to special patient populations including those with special needs and conditions and underserved populations—needs more attention. Dental hygienists are crucial to address these issues through advocacy, research, and dissemination of new knowledge in order to influence change. Within education, there is demand for more dental hygiene educators and administrators and mentorship can play a large role for our future educators!